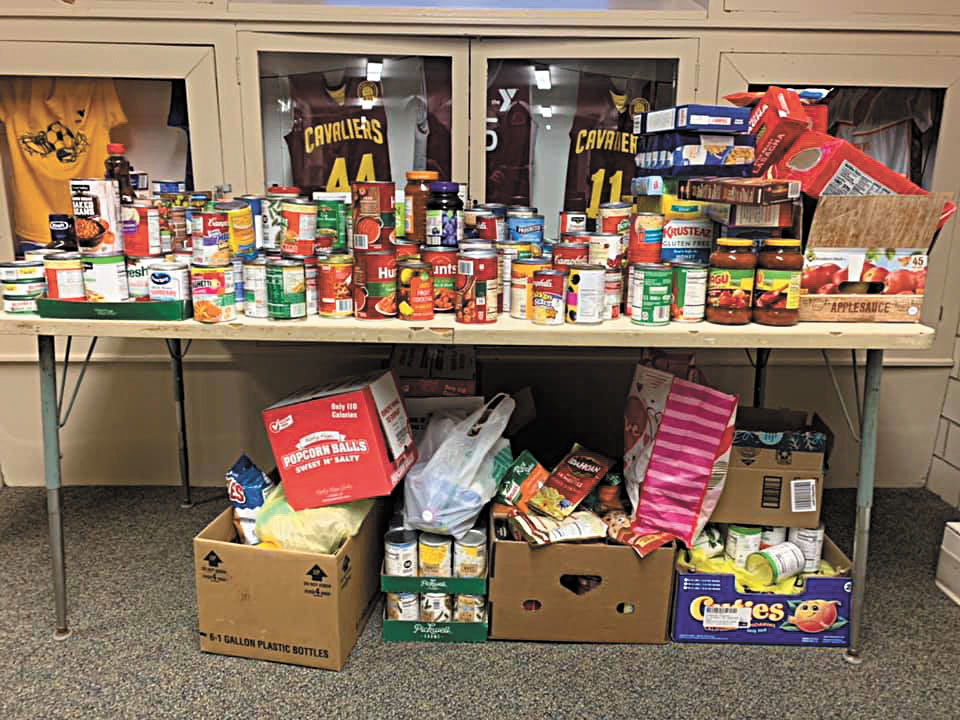 NGCC Food Pantry Celebrates a Season for Giving Thanks
Benjamin Coll
Sunday, December 22, 2019
Garrettsville - As we say good-bye to another year the Nelson Garrettsville Community Cupboard (NGCC) would like to take the opportunity to thank all of our volunteers and community partners for their support in 2019. Your financial gifts, food drives, campaigns and volunteering enables us to provide food to our friends and neighbors in the Garfield school district that are struggling with food insecurity.
This year we were able to provide a special Thanksgiving meal pack for our clients, helping over 80 area families enjoy a smoked chicken dinner. Thank you to Garrettsville's Sky Plaza IGA and Save-A-Lot for your holiday food collections, Roscoe's Poultry of Youngstown for providing special pricing on the chickens, and Jim Pfleger for donating his time to prepare and smoke them.
Our clients are truly grateful for the spirit of giving that has captured our community throughout the year. You have shown support for the food cupboard in a number of ways:
• Garrettsville YMCA for providing a cost effective home for the food cupboard.
• Garrettsville Area Chamber of Commerce covering the food cupboard rent for a year allowing the funds to go towards food.
• Patton Pest Control for keeping our food storage area "critter free"
• The Weekly Villager for covering the cost of the telephone
• Sky Plaza IGA for being the perishable voucher partner with NGCC and for their multiple food collections throughout the year.
• Save A Lot for their support and food collections.
• Curtains up Theatre for their help with our amazing "Murder on Main" fundraiser
• Food and Fund Drives. Community groups have held multiple food drives collecting thousands of pounds of non-perishable food for the cupboard.
• Grants. NGCC has been extremely fortunate to receive financial funding from the Rotary Club and the Hiram Community Trust allowing us to not only continue, but expand the monthly Snack Pack Program for the children.
• Ongoing Donations of Time. The food cupboard is a volunteer organization and we truly appreciate the time that our volunteers spend stocking shelves, picking up food at area locations, packing orders and fundraising. So many have stepped up to lend a helping hand, and we have been fortunate to have the continued support of Michele & Mike Elias who have been available to provide guidance this year. If you are interested in volunteering, please contact us at ngcc305@gmail.com or leave a message at 330-527-2011.
• Facebook Likes. More than 670 people have "Liked" our Facebook page and can help us spread the news of our impact and urgent requests for help.
NGCC by the Numbers
From January through November of 2019 the Nelson Garrettsville Community Cupboard has served 668 households in the James A. Garfield school district (Garrettsville Village, Freedom, Nelson and Hiram Townships). Within those households 35% of our clients were senior citizens, and 18% were children.
No matter how you did it, you have helped to feed your neighbors in need. You have made it possible to provide more fresh food to clients through your monetary donations. You have helped spread the word that hunger exists in our area. You are making a difference in the lives of 1,482 people, including 223 children, and helping to provide over 22,200 meals during the course of the year. For all of that, we thank you and your neighbors thank you.
End-of-Year Giving
Our final distribution for 2019 will occur on December 23rd, ensuring that our clients have sufficient supplies for the holidays. The food cupboard will close on December 24 for the holiday period to give our volunteers and staff time with their families. We will re-open our doors on Monday, January 6 to greet our clients with renewed energy and continued compassion in the New Year.
Remember that the need continues long after the holidays are over and the new year arrives. Non-perishable food donations can be made daily at the Garrettsville Family YMCA on Park Avenue during their hours of operation. You can also make a monetary gift by mailing a check payable to the Nelson Garrettsville Community Cupboard to P.O. Box 294, Garrettsville, OH 44231. Mail that is postmarked by December 31 may be tax-deductible for 2019 (consult your tax advisor).
May you have an especially wonderful holiday season! Thank you for your continued support!